"Risky Business"
Click to read article
by Charlene Gatt.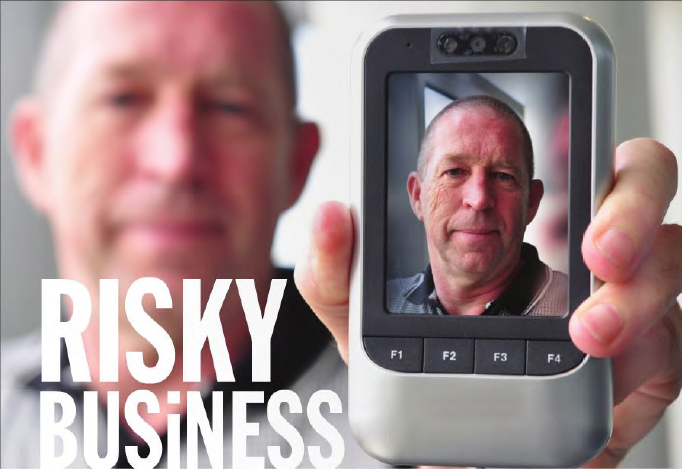 IT'S the stuff movies like Mission Impossible are made of. Police Checks. Fingerprint access control. Passport readers.
Essendon's Personnel Risk Management has spent the past 16 years sourcing the latest technology to enhance security for the public and private sector, and is now taking the next step with biometrics
Former Victoria Police Inspector Geoff Stockton set up the business in 1995 in his dining room with an old computer and, familiar with the time and energy spent on filing paperwork for police checks, invented the first online system to perform police checks.
He was also well aware that there was nothing printed – police checks, university degrees – that couldn't be copied.
Mr Stockton was then contacted by UK company Personnel Risk Management, asking him if he could do pre-employment screening. He agreed, and PRM in Australia took off.
While it didn't work out for the UK chapter, which sold out over a decade ago, PRM Group Australia thrived.
The business really took off after the Federal Government changed legislation so that every person working in the aged care industry had to have police checks.
"Its very, very difficult to do all the paper applications – especially in this case, where there were 400,000 people," Mr Stockton said.
Mr Stockton now has 10 employees and around 1500 clients across Australia, including Victoria, Western Australia and New South Wales Government Departments, plus corporations like Johnson & Johnson, Michelin and Queensland Gas.
The business was ranked 21st in the Westpac Smart Company, The Smart 50 2010 Awards.
The PRM Group's Business Development Manager Ross Brierty said, "running police checks was now considered a more acceptable research tool."
The proof is in pudding. Three years ago, there were only 1.5 million police checks performed Australia-wide. Today there are 3.5 million
The challenge for The PRM Group is to continually enhance the software to make the system more secure, while working with other technology to provide more for clients.
To achieve that, the company now bases itself on three pillars; pre-employment screening, police checks and biometrics.
The PRM Group is working with suppliers in Korea, Spain and the UK to market fingerprint access and iris control, facial recognition and passport readers.
Among their tools is a device the size of an iPhone that they are marketing to hotels.
The device takes the place of keycard, entry devices and employs facial recognition.
"It tells the hotel just who is staying in the room and if a hotel has 20 cleaning staff and something is stolen, this will tell you who was in the room.
There is also a wireless EFTPOS machine that employs a fingerprint scanner with a temperature setting, so you can't just cut someone's finger and use it, Mr Stockton said
We want to combine the database to give better offerings for people so that when they do a police check they'll be able to do a police check and other checks like facial recognition.
The technology is getting better and better all the time.
Years ago, to get someone's fingerprints to access a door or alike, someone worked out if you chopped a finger off you could use it. Now it has to be a live finger as it reads your capilliaries, temperature and other unique body parts.
Also, once you give your fingerprint, it turns it into a algorithm, which is unique to you. It can't be rebuilt as a fingerprint."
The PRM Group is also working on a tender to supply passport readers to an international airport
"The Lying Game"
Click to read article
Featured in www.hcamag.com
No one would fall for the cheap qualifications churned out by online 'Diploma Mills'… or would they? Iain Hopkins discovers that deception runs deep – and employers need to be wary
Glen Oakley was moving up the corporate ladder, but as he was about to step on the highest rung of his career, the truth came out and his world fell apart.
Sharing similarities with the film Catch Me If You Can (a real-life story in which Frank Abagnale Jnr successfully impersonated an airline pilot, doctor, assistant attorney-general and history professor, while cashing more than US$2.5m in fraudulent cheques in 26 countries), Oakley's story is almost as compelling: a man with no qualifications who lied his way into any job he wanted. It serves as a stark warning to employers considering waiving pre-employment checks in the rush to fill positions.
Oakley's deception began in the 1980s. The fake qualifications included a bachelor of science (hons), a graduate diploma in education, a master of business administration and a doctor of philosophy. These got him his first job and led to others – predominantly six-figure executive roles.
The first time he used the qualifications was in 1987, when Oakley jumped from being a mortuary assistant to a regional manager of the Maritime Services Board. An impressive run of job titles continued until 2001, when his lies started to catch up with him. Oakley became the front-runner for an executive position with toll road developer Transurban; all was well until a board member – who happened to be a University of NSW academic during the time that Oakley claimed to have completed his masters – had no recollection of him. The recruitment agency assigned to the Transurban position confronted Oakley with doubts that his photocopied qualifications were genuine. Unable to provide original copies, Oakley responded with the far-fetched story that he had been given an identity, including academic qualifications, by the Australian Security Intelligence Organisation while working as an undercover agent in the 1980s. He added it was a military secret that could not be disclosed, before withdrawing his application. Meanwhile, another job application, to NIB Health, was sprung by their recruitment agency Korn/Ferry who – thankfully – carried out their due diligence.
History abounds with potentially devastating hiring errors. Geoff Stockton is a CV fraud detective and director of employment screening company The Personnel Risk Management Group. He says that adding the odd qualification to a CV is more common than one might think. "All it takes is a good imagination and a computer. You can write anything you like in a CV and chances are it won't be checked, and if nobody does any checking, you can get away with whatever you dare to write," he says.
As screening becomes more accepted and advanced so does forgery. Internet growth, laser printers and other accessible technology have caused an explosion of fraud. Taking it a step further, 'Diploma Mills' are companies set up as fake schools selling Bachelor of Arts, Masters degrees and Doctorates for a relatively small fee. There are an estimated 500 Diploma or Degree Mills operating around the world with an annual turnover of hundreds of millions of dollars.
Richard Bensberg, managing director of Red Flag Screening, says qualifications checks are becoming harder to carry out, but there are three variations commonly seen on suspect qualification
'Original' forgery
Real certificate with details changed
Diploma Mill-provided certificate

"Generally, academic certificates are not difficult to forge, and therefore forgeries are hard to spot – there are some exceptions however, with forgeries containing obvious misspellings, for example.
As such, the most effective method of verifying a qualification is to do it through the institution directly. This is where the issue of Diploma Mills is important to understand. In such cases, the awarding institute will often still exist and even be able to verify the qualification attained. In such cases it's important to have a clear policy on the educational requirements for the position, and having a screening provider who can alert you to instances where the 'qualification' does not meet your company's standards," says Bensberg.
As proof that these bogus qualifications are difficult to spot, last year an NBC reporter in the US led an investigation into Diploma Mills and 10 days later, after paying US$180 to a company called instant.degrees.com, was awarded a PhD with honours, no questions asked, from a 'Buxton University' in the UK. The package arrived, stamped from Portugal.
The Buxton degree comes with an accreditation certificate that states in very small print that they are having trouble with their phone lines, making overseas verification difficult. Stockton says little irregularities such as this should ring alarm bells for astute employers. He also cautions that many genuine-looking university diplomas are really from places that sell degrees for 'life experience'. Reading a book on a relevant subject is often criteria enough.
Greg Newton, managing director of Verify, says that where the qualification appears to be issued by an Australian institution there are some easy steps to take (see box). He adds that working with a pre-employment screening partner that has relationships with hundreds of institutions around the world is more effective than trying to use a supposed qualification broker which may just be 'warehousing' information. "While they can be a useful source we've always found the issuing institution to be the most reliable and valid," he says. "The absolute simplest and best way to confirm the qualification is to have an experienced background verification company undertake the process for you. It's not expensive and in most cases costs less than $50 to give you total peace of mind."
In addition to Diploma Mills, organisations are urged to be wary of a similar trend in the employment reference market, with companies providing fake payroll info and references.
"It costs about $1,000 to set up a company. We encountered a case where a candidate had his spouse on the other end of the telephone ready to provide a reference for him. It was a legitimate company but it was totally fake," says Stockton.
The globalisation of the workforce is adding another layer of complexity to an already challenging problem, as greater numbers of students are returning from abroad with a wider range of qualifications from different institutions. "This can prove to be an overwhelming job for HR professionals tasked with verifying such information, experience and qualifications from all around the world," says Bensberg. "It's becoming much harder for all employers, from large MNCs to small local businesses, to be sure whether the qualifications and experience a candidate presents in their applications are genuine."
However, it must be remembered that qualification checks, like most background verification services, can usually be delivered within the same time frame it takes for a potential employer to undertake the full recruitment process. Solid partnerships with third party information providers and high speed online communication technology means that most checks – such as identity, criminal record, credit history, and bankruptcy – can be completed in less than 24 hours.
"We try to get them back as soon as possible but there are always going to be roadblocks – referees who are overseas, schools that are closed over a period during the year – but no one else can get it done any faster," Stockton says.
In Australia, at least, it appears candidates can also ill afford to dupe employers. Stockton warns that if a worker commits fraud by providing false qualifications in order to be employed, they may be subject to criminal charges. "There is certain to be a flood of lawsuits in the future and insurance companies are not going to pay out for theft or litigation if an employer has not conducted proper pre-employment screening," he says.